News Details
Examining Societal Connection Between Blackness and Criminality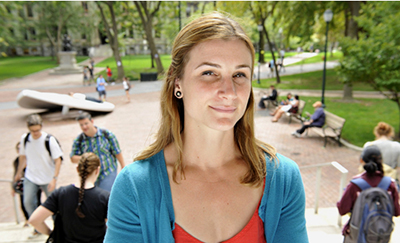 Authored by: Alumni Submissions
Photography by: Candace diCarlo
Casey Bohrman, MSW'03, PhD'13, Assistant Professor of Social Work at West Chester University examines the societal connection between blackness and criminality in her Opinion piece for the Inquirer.
While in the PhD Program, Casey participated in the Berkeley Media Studies Group training.
"Since that workshop I have been telling myself I need to submit an op-ed when issues relevant to my research pop-up," Casey explained."I wouldn't have forced myself to write this if it weren't for [Dr. Susan B. Sorenson] and the information/push we received during that workshop."

CLASS OF 1952
Sol Koenigsberg, MSW, published a memoir called Challenges and Growth. The Jewish Federation of Greater Kansas City, 1968-1989 in 2012. Sol was named one of the "living legends" of the Jewish community of Kansas City by local a Jewish weekly newspaper. Sol will be 90 in December 2014 and lost his wife of 62 years in January.
CLASS OF 1957
Babette Rosenbush Bierman, MSW, retired after fifty years of active social work practice working with adolescents and parents of young children including evaluating  Head Start services. For the past 10 years, Babette has worked as an Adjunct Faculty member at the University of Maryland School of Social Work as a Field Liaison.
CLASS OF 1968
Jared N. Rolsky, MSW, retired in April of 2014.
CLASS OF 1969
Gerald L. Euster, DSW, is a retired Distinguished Professor Emeritus at the University of South Carolina, College of Social Work in Columbia, SC. He published "Volunteerism" in The Encyclopedia of Elder Care: The Comprehensive Resource on Geriatric Health and Social Care in 2013.
CLASS OF 1972
James Donald Harrison, MSW/MBA, DSW, is Asst. Dean of Finance, State Auditor, Disability Advocate Entrepreneur. James has been fortunate to assist many people in obtaining disability benefits, like financial resources and healthcare benefits, from SSA.
Marlene Anita Saunders, MSW, earned her DSW in 2001 and is Chair of Department of Social Work at University of Delaware.
CLASS OF 1976
Aldonna R. Ambler, CMC, CSP, ACSW, has published more than 200 articles about business growth and accelerated change in business and professional journals. Known as The Growth Strategist, Aldonna's suite of businesses have helped over 800 privately held companies achieve accelerated growth with sustained profitability. The Service Industry Fund (founded by Aldonna) has provided over $1 Billion of growth financing. For nine years, Ambler hosted a weekly syndicated online talk show with candid interviews with Presidents of midsized companies. She has addressed over 2000 audiences worldwide about profitable business growth. She's available to serve on boards. Aldonna is a survivor of both breast and thyroid cancer.
CLASS OF 1978
Sheila S. Wurm, MSW, has been retired for almost five years and enjoys volunteering for various programs in her area.
Susan Perlo von Manske, MSW,  worked as a progressive journalist in radio, television, and print in California. She and her husband made a documentary about how American tax dollars were being spent in the war in El Salvador in the late 1980's which aired in Congress and had some impact on stopping US government funding for the war.   She also was the head of the Social Justice Academy at world famous Hollywood High School in Los Angeles and continues to be a political activist after retirement. "The Penn School of Social Work and professor Louis Carter changed my life in many wonderful ways," wrote Susan. "Whether I was working as a social worker, covering news events as a reporter, or teaching inner-city students or severely emotionally disturbed children, the School's social change curriculum enabled me to approach and understand my work in an authentic and unique way that set me apart from the crowd."
CLASS OF 1980
Amy Lindner-Lesser, MSW, is the owner/innkeeper of The Rookwood Inn (a 20-room bed and breakfast) and a Justice of the Peace. She was recently elected President of the Board of the Jewish Federation of the Berkshires, Western Massachusetts.
CLASS OF 1986
Laurie Montgomery, MSW, has worked as a therapist at a mental health clinic in Norristown for 13 years.
Celeste A. Yeager, MSW, moved to Cut Bank, Montana in March of 2011 to support medical and healthcare needs of three generations of her family.  Currently she works as a Student Success Case-Manager for the Issksiniip Project of Blackfeet Community College, a five year, $15 million United Stated Health and Human Service Health Professions Opportunity Grant to enable the retention, completion, graduation and job placement of students on the Blackfeet Reservation and others below the poverty level to gain employment in a medical profession. Celeste has taught two sections of Behavioral Health Aide Intern Field Placement.  As a case-manager, she advocates working for change regarding issues of employment, education and health care service delivery on several levels. "This is the best, most rewarding, most personally and professionally fulfilling position I have ever had!," she wrote.
CLASS OF 1994
Scott E. Provost, MSW, was appointed to the Regional Education Community Board of the MetroWest YMCA in Framingham, Massachusetts in 2013 to serve a three-year term. Scott continues to work at McLean Hospital within the Division of Alcohol and Drug Abuse on a research grant funded by the National Institute on Drug Abuse.
CLASS OF 1995
Tracy Clopton, MSW, worked for the Ohio Department of Health's Tobacco Program for 13 years and then in 2011 returned to work for the Centers for Disease Control and Prevention in the Division of HIV/AIDS Prevention. In August 2014 Tracy traveled to Honolulu, Hawaii to present at the CDC Program Collaboration Service Integration Surveillance training. Topics included Best Practices for Integrated Surveillance: A Model for Collaboration Infrastructure and Data Security and Confidentiality: Center Overview.
CLASS OF 1998
Julie Isaacs, MSW, is a psychotherapist with Kaiser Permanente and  lead therapist for the adolescent Intensive Outpatient Team and Adult intensive outpatient team.
CLASS OF 1999
Robert Edwin Carter, Jr., MSW, is Associate Director of the African American Resource Center at the University of Pennsylvania and was an artist educator at the Move Mountains Project. Move Mountains Project is an entrepreneurship and art community-education program focused on building a platform for the youth leaders of San Luis, Colorado in the form of an Arts and Science Festival on July 26, 2014. Miguel Huerta, SP2 alumni organized a group of social workers, educators and artists to converge in San Luis and work with the youth of the community. The youth are actively working on a proposal and campaign for a community center. They believe providing a safe, stimulating place for the youth will curb the problems with drugs, violence and low educational attainment.
Rev. Juan F. Perez, Jr., MSW, was granted an MDiv degree from Bexely Hall Seabury Western Theological Seminary Federation on May 24, 2014 and was ordained an Episcopal Priest in Detroit on June 14, 2014.  He is currently the Curate Missioner for Hispanic/Latino Ministry in the Episcopal Diocese of MI and co-founder of La Iglesia Detroit (a ministry of diocese).  La Iglesia Detroit was recently granted a Mission Enterprise Zone grant of $100,000 by The Episcopal Church to help start a new Latino Episcopal Church plant in Southwest Detroit. He legally married Joe Cloutier, his partner of 16 years, in  NYC on May 30, 2013.
CLASS OF 2001
Derrick E. Felton, MSW, currently works at the Department of Veterans Affairs Readjustment Counseling, Peninsula Vet Center located in Redwood City CA. . At the Vet Center, Derrick and his staff provide individual and group psychotherapy to men and women that have been deployed in a combat theater. As a veteran himself Derrick continues to hold true to the VA's motto:  "To care for him who shall have borne the battle and for his widow, and his orphan" (Abraham Lincoln). Derrick is the Co-Chair for Northern CA, Secondary School Committee and conducts interviews for University of Pennsylvania. Penn's alumni interviewers serve as ambassadors in their local communities, providing crucial assistance to the Undergraduate Admissions Office as they work to select the next generation of Penn students.  In addition to keeping the spirit of the Alumni alive Derrick took the lead and organized the first Penn Alumni Cancer Walk that will be held September 28, 2014 in San Francisco, CA. Derrick graduated last year with his Master's in Public Administration and now taking classes working on his Master's in Business Administration. He recently presented at the National Blacks In Government that was held this past July in Las Vegas, NV. His topic was "saying goodbye to the stigma of mental health in the African American community".
CLASS OF 2005
Teresita Hurtado Ramos, MSW, along with being the New Volunteer Training Manager at Dallas CASA, this year she has been selected to be the Co-Chair of the Dallas County Disproportionality and Disparities Committee and the Vice President of the Dallas/Fort Worth Dominican Association. She is also a mentor of a 16 year old with the Big Brother Big Sisters program and they have been matched for over 1 1/2 years. She is also pregnant!
CLASS OF 2006
Christopher Lyddy, MSW, was named Chief Operating Officer of Advanced Trauma Solutions, Inc.
Frances Burns, MSW, Graduated from Widener Law in 2013 with a Masters of Jurisprudence and is now a Compliance Officer. Frances also became engaged to Anthony Berry on July 24, 2014.
Jordane Jolley, LMSW, is Director of Friendship Center, JSPOA, Inc. and received "Field Educator" of the Year Award from Adelphi University School of Social Work in May 2014. She also received "Outstanding Administrator" by NYC City Councilman D. Miller in July 2014.
CLASS OF 2008
Katie Santana, MSW, has relocated back to Philadelphia and opened a private practice at Still Waters Holistic Health Therapies, 2305 Fairmount Avenue, Philadelphia, PA.  Her website is katiesantanacounseling.com. She hopes to connect with other alumni who are working in private practice and agencies in the Philadelphia area. Please contact her at: k.santanalcsw@gmail.com.
Dushinka Abayasekara, MSW, works at the Public Diplomacy Section – U.S. Embassy for Sri Lanka and the Maldives.
Jill A. Appleheimer, MSW, attended the School of Museum of Fine Arts (SMFA) Boston, studying fine art and is currently a freelance artist and writer. She published Kristen Grows Up, a book for young women with Down Syndrome, inspired by her sister & her peers.  The anecdotal format focuses on the abilities and talents of the main character and creates positive associations to soothe and comfort during what can be a confusing and challenging time in a child's development. The vibrant, adorable and colorful illustrations are suitable for young women who may not be able to read and can be used as a guide to empower young women for greater independence in terms of their own health and wellness care. This book can be used by schools, psychologists, social workers, doctors, parents and caretakers. "Kristen Grows Up" was inspired by a very special young woman in the hopes that it will support, comfort and empower other special young women. It is available on Amazon.
Courtney McCuen-Wurst, MSW, is in the last year of the Psy D program-Clinical Psychology. She married Kevin Wurst in 2011 and her Son, Lucas was born in 2013.
CLASS OF 2009
Noel B. Ramirez, MSW, is Program Coordinator of Philadelphia FIGHT, Adjunct Professor West Chester University Graduate Social Work. Noel is  LCSW Therapist at Insight for All – Psychoanalytic Project for individuals who have or are currently experiencing homelessness  Featured in fox news on PrEP program for HIV negative gay/bisexual men.
CLASS OF 2011
Mary Abigail Rix-Degge, worked as a Medical Social Worker at University of Maryland Medical Center from August 2011 to August 2013 and is currently employed as a Hospice Social Worker with St. Peter's Health Partners in Albany, NY. Mary is a Visiting Lecturer of Developmental Psychology, African Christian College, Manzini, Swaziland. In June 2014 she was Guest Presenter at "U.S. Higher Education at Penn."
Ashley Mapp, MSW'11, will be attending Florida International university in Miami, FL this Fall. She was accepted to more than 15 Schools.
CLASS OF 2012
Mallori Berry Cain, MSW, recently moved to the Nashville area and began working as the Client Program Coordinator at Hope Clinic for Women.
Abigail Pleeter, MSW, is survivorship Coordinator at CTCA.
Clement Gyan, MSW, was promoted from Assistant Program Manager to Program Manager.
CLASS OF 2013
Kiera Ringland Kenney, MSW, would like to share her experience from the last year with her SP2 alumni community. "I've just returned home from a year-long fellowship in Lusaka, Zambia with Global Health Corps (GHC), a fellowship program that matches fellows from the US and Africa with a variety of health organizations and government agencies doing work in the US, Zambia, Burundi, Malawi, Rwanda, and Uganda. During the past year, I had the privilege of working at the local Zambian organization,CHAMP,  as the Community Learning Operations Officer. Within my role I was able to utilize the skills and experiences I acquired during my time at SP2 and the insight of local staff and community members to build the capacity of CHAMP's Community Center to serve the surrounding community through the piloting of a drop in center model. My team and I were able to open the center up to the community through the delivery of health, social services, a variety of other community driven programs, and the implementation of various client assessment and marketing tools. In under six months the number of visits by community members exceeded 1,000, as the community sought to be connected to programs and services that would enable them to live healthier and more informed lives. In the near future, I plan to make my way back to CHAMP and continue working to create more sustainable community centers throughout Zambia.
GHC strives to build an international community of young professionals working towards global health equity, using various skill sets and partnerships to make a difference within the organizations and communities they live and work. Through this experience I was able to blend my interests in international social work, health, and social justice in a career, fell in love with the country of Zambia, and met a group of amazing, smart, and passionate individuals who I hope to work with, and stay connected to for the rest of my life. My time with GHC has been unforgettable and I sincerely hope that SP2 is able to continue preparing professionals with the self-awareness, skill, and confidence to take on global issues."
Barbara A Ballard, MSW, is Donor Relations Specialist at KenCrest.
Miguel Huerta, MSW, Formed a non-profit and executed a month long summer youth program in rural San Luis, Colorado in July 2014. The Move Mountains Project is an inter-generational, cross-country, trans-cultural, youth-focused organization currently applying to be a 501(c)3. The Project is a collaboration between the San Luis City Council, Centennial School District, Costilla County Commissioners, local businesses and artists, and educators and artists from the San Luis Valley, Denver, Colorado Springs, Philadelphia, the University of Washington, and beyond.
The Move Mountains Project began as a partnership between Miguel Huerta and his mentor Shirley Romero Otero, an educator and figure in the Chicano Movement, as well as a land rights activist in San Luis Colorado. Miguel organized a group of social workers, educators, and artists to converge in San Luis and work with the youth of the community. Among the artist educators was Robert E. Carter, Associate Director of the African American Resource Center at the University of Pennsylvania.
The Move Mountains Project is an entrepreneurship and art community education program focused on building a platform for the youth leaders of San Luis, Colorado. San Luis (population 700), the oldest city in Colorado, is the sight of a land struggle spanning half a century and as a result, is economically and politically excluded. Due to these constructed conditions there are few opportunities for young people in this community, leading to the perception that success can only be attained by leaving. Move Mountains is about elevating the voice of the youth and catalyzing community engagement to ensure the survival of this ancient Chicano community and its rich culture.
Young professionals and community leaders partnered to provide youth with a month of empowering daily activities. Such activities included partnering with an ethnobotany class from the University of Washington, learning about the food and medicine used by their ancestors from local Master Herbologist Theresa Vigil, and painting a mural on the side of town hall with local artists Carlos Martinez and Zeb Palmer, to name a few. As a result of the intensive month-long experience, youth are actively working on a proposal and campaign for a community center, as they believe providing a safe, stimulating place for youth will curb problems with drugs, violence, and low educational attainment. Some of the youth leaders have even democratically collaborated to create a 3D design of the community center.
Move Mountains employed 13 middle and high school students and engaged around 20 youth leaders throughout the month. When the youth spoke at the culminating event on July 26th, the Art and Science Festival, the ground shook and the elders listened. The youth of San Luis were inspired and empowered to "step-up" in their community and speak out about what they'd like to see for the future of San Luis, Colorado. Through the month of July the youth moved mountains within themselves and in their community.
Linking the land rights struggle of San Luis, the community's inspiring heritage and vibrant art to social justice focused artists and educators from around the country established a powerful relationship. The Move Mountains Project believes in sustainable, just paths for youth that begin with their voice and aims to evoke this voice by pairing youth with young leaders from diverse backgrounds who have overcome similar barriers through entrepreneurship, art, and science. Connecting the deceivingly isolated struggles of rural life in San Luis to the deprived condition of inner city Philadelphia broadened the perspectives of both the youth and the visiting artist educators, while deepening our collective sense of justice. Move Mountains is about placing the community in the hands of youth. This summer youth raised their ground-shaking voices throughout a month of activities and the Art and Science Festival on 7/26/14. And we'll be back next year.
For more information: check out facebook.com/youcanmovemountains
CLASS OF 2014
Mollie Dugan, MSW found and pursued a placement in Lesotho with Social Worker's Beyond Borders (SWBB). "I was captivated and knew I had to send in an application. Social Workers Beyond Borders is a small, grassroots, nonprofit organization, based out of Washington DC. However, it wasn't until after receiving a personal phone call from the organization's founder that I realized no other opportunity would compare," Mollie explained. Founder Stephanie Asare Nti's enthusiasm for SWBB's new venture in Lesotho was contagious. Lesotho is a small, landlocked country within South Africa. Stephanie explained that not only would there be opportunity for hands-on experience, providing counseling services to clients, there was also potential to work directly with the Ministry of Social Development on policy and program development. The facility where Mollie has been placed is called Ithuseng, which means, "help yourself" in Sesotho (the local language). Ithuseng is a two-year, residential program for individuals identified in the community as having some type of disability, primarily physical, but mental as well. While enrolled, trainees learn some type of skill, such as sewing, metalwork, carpentry, agriculture or leather-work, to use for income generating purposes, following completion of the program. However, many participants have never worked before nor spent time away from their villages and families. Learning to cope in their new environment can be extremely challenging, especially without the support of their loved ones. In an effort to increase the graduation rate of the trainees, Mollie created a stress management program.
"During my years of study in the MSW program, I had the honor of taking Laura Hinds, for both practicum classes. Professor Hinds continually emphasized the importance of self-care. If we are not able to "Ithuseng" or help ourselves, we risk burn out and the inability to empower those around us. Knowing how much practices such as yoga, meditation, mindfulness, Emotional Freedom Techniques (EFT), breathing and deep relaxation have helped me to deal with the ups and downs in my own life, I have included a variety of these techniques into the programming," Mollie explained. "Each of us are called to the social work profession for our own reasons, but after having that first taste of what some types of therapeutic practice can do, I think that it becomes our responsibility to share that understanding with others, regardless of a degree."
Many of the concepts Mollie has introduced are completely new, but have been extremely well received! "It is truly incredible to witness the healing benefits for those who have never had any prior experience with the techniques," Mollie said. "While we are quite a long distance from the classrooms of UPenn, the teachings I have taken with me are no less powerful, if not more so."
In addition to her work at Ithuseng, Mollie was offered the unique opportunity to take part in designing, organizing and co-facilitating a microfinance and self-help group (SHG) pilot project for Basotho citizens, designated as 'vulnerable' in their communities. Over the past winter break, Mollie was selected for travel to India with Dr. Femida Handy to study microfinance and women's empowerment. With a Bachelor's Degree in Business Administration, Mollie had always dreamed of combining both business and social work degrees to help empower individuals to overcome the cycle of poverty. Studying in India and personally meeting women, who were becoming financially successful as a result of SHG membership, made Mollie realize that this was truly work in which she would love to take part. Mollie feels honored to be working closely with the Kingdom of Lesotho's Director of Community Development and his staff, to create a model based on research and observations from her trip to India, modified to benefit the people of Lesotho. "Even though I could never have predicted that I would be living and working in a country unfamiliar to me prior to applying for this position, I know I made the right choice and am proud to say I will be joining the SWBB Team as a full-time employee in September!," Mollie shared.
Mollie and another intern have started a Tumblr to document their experience in Lesotho: swbblesotho.tumblr.com and socialworkersbeyondborders.tumblr.com
They are looking for more social workers to join! Please feel free to contact info@socialworkersbeyondborders.org
Kira Silk, MSW, was granted the Stoneleigh Fellowship and will work with Wordsworth to increase retention of, and support for, foster parents by identifying their needs and advancing programmatic responses. Read more.
Britney Thornton, MSW, is proud to return to her native city of Memphis. Though she has switched formally from Social Work to a career in Education, she does not consider the two mutually exclusive. Britney shared: "In fact, I use my social work skills daily as I engage my colleagues, students, and parents.  Furthermore, the effects of the social ills plaguing the Memphis community are apparent in the classroom. Students living in low-income communities face an abundance of challenges that make even coming to school to learn a difficult task. Similar to what I experienced as a social worker, teachers spend the bulk of their time handling necessary tasks like paperwork which leaves little room for reflection. Indeed, work on the front line is not easy but it is rewarding to see an immediate impact in the lives of students. Teachers and social workers alike need to let their voices be heard because our perspectives are invaluable. Who knows more about the limits and ineffectiveness of policies than us? We will continue to be overworked and underpaid as long as we forget our own worth. #speakup  #notmyworth  #united"
CLASS OF 2014
Angelika Maryniak, MSW, began working as a Career Adviser with Southern New Hampshire University.
Daniel Suchenski, MSW/NPL, is now the manager of the Delaware STEM Council and the Volunteer Director of Major Gifts at SAADA.
George Plutchok, MSW'49, Age 93, of Atlanta, GA, formerly of Pittsburgh, PA, passed away in July 2014. Loved and respected by everyone who knew him, he was raised in Newark, NJ, the son of Russian immigrants. He was a graduate of New York University with a BA in music, and was among the first in the country to achieve a doctorate in Social Work from the University of Pennsylvania. He served honorably in WWII in the South Pacific, working after the war for the United States. Read more about his life here. 
Curtis Leonard, MSW'63, Dean Emeritus at Temple University School of Social Work, passed away on August 16, 2014. He is survived by his wife Jacqueline. A memorial service will be held Saturday, September 27, 2014 at 11:00 a.m. at Church of St. Andrew and St. Monica Episcopal Church at 36th Street and Barring Street in Philadelphia, PA.
Renee Shai Levine, DSW'97, loved reading to children, not only infants but also elementary students. She was convinced it would "encourage them to read and listen," reinforce their development, and prepare them for their future lives, her son Stefan said. "She felt everyone could achieve excellence." Dr. Levine, 82, a school social worker, died Saturday, Aug. 17, after a long battle with cancer. Read more about her life here.
Grayce Uyehara, MSW'97, was a retired Philadelphia-area social worker helped lead the national redress movement for Japanese Americans interned during World War II, died June 22, 2014 at Virtua Memorial hospital in Mount Holly. Read more about her life here.