News Details
Alumni Council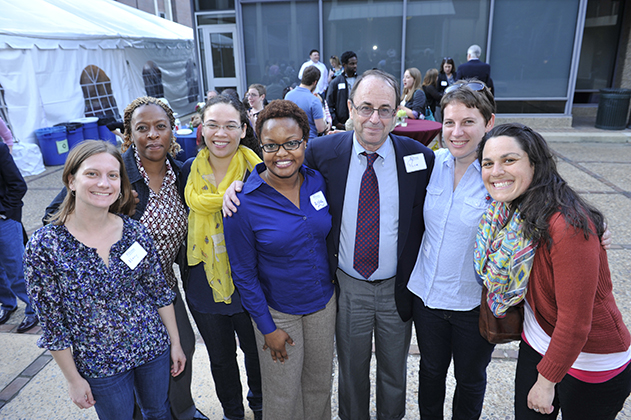 Authored by: Lisa Dugan
Photography by: Candace diCarlo
The Alumni Council at Penn's School of Social Policy & Practice represents the voice of the alumni; encourages alumni support of the School; and informs alumni about issues that advance the School's growth and development.
This year, the council welcomed new chair, Santo Marabella, who received his DSW in 1991 with a focus in Social Work Administration. He is currently a professor of management at Moravian College and teaches courses in management, strategy, ethics and diversity. He is also President of Marabella & Associates, which provides entertainment, not-for-profit and management consulting. A 2002 recipient of the Christian R. and Mary F. Lindback Award, Marabella has served on the SP2 Alumni Council since 2008 and was an Alumni Ambassador and keynote speaker for Alumni Weekend in 2009.
Among the events sponsored by the council this year was a welcome breakfast for new students, which provided an opportunity for students to learn about the many academic, professional and social opportunities available to them. The council also marked National Social Work Month by presenting a symposium entitled Bullying Across the Lifespan: Targeting the Bully. According to Marabella, the conference explored some of the less-publicized aspects of bullying including workplace bullying and elder abuse.
"We also wanted to focus on the bully, because as change agents, we believe that by understanding these individuals we can be better equipped to help them address their behavior," he explained.
The interactive symposium was broken into three sessions: Setting the Context, with opening remarks from Dean Richard Gelles and presentations by bullying experts; Deepening our Understanding, featuring personal reflections from former bullies, victims and change agents; and Making a Difference, focusing on strategies for change. Nine panelists represented a range of perspectives and included an eighth grader who has experienced bullying, frontline social workers and mental health professionals as well as experts on workplace bullying and elder abuse.
Moving forward, the council is planning several additional events for the coming year and is seeking to increase the engagement and participation in Alumni events and activities. The council welcomes ideas about how to better connect alumni with other graduates of the program and with the School.