News Details
24K Philadelphia addresses to receive survey from Philadelphia Economic Equity Project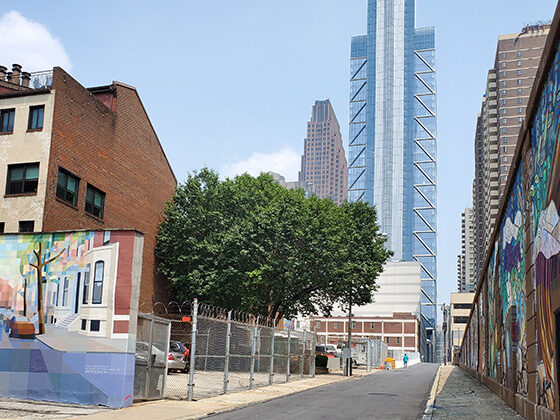 Authored by: Juliana Rosati
Photography by: Candice Dias
Faculty & Research
09/26/23
The initiative is part of the Center for Public Service & Policy led by former Mayor of Philadelphia Michael A. Nutter at Penn's School of Social Policy & Practice.
Philadelphia, PA — Aiming to address a need for data-informed, local efforts to fight economic instability and promote economic mobility, a survey from the Philadelphia Economic Equity Project (PEEP) will arrive in approximately 24,000 randomly selected city mailboxes between late September and December of this year. The survey is designed to explore the economic and social challenges that Philadelphians face and to identify ways in which Philadelphians are economically mobile.
Just this month, newly released U.S. Census Bureau data showed a drop in Philadelphia's poverty rate and an increase in incomes. The PEEP survey is intended to help understand such changes in detail in order to identify solutions based directly on the experience of Philadelphia residents.
"This endeavor is about getting the research and work into the hands of those on the frontlines. Just a one percent change in poverty equals improving the lives of 15,000 people in Philadelphia," said former Mayor of Philadelphia Michael A. Nutter, who is managing director of the Center for Public Service & Policy at Penn's School of Social Policy & Practice (SP2), where the project and survey are based.
"With this survey, we're inviting a group of Philadelphia residents to tell us about their experiences over the next 36 months," said Candice Dias, PhD, PEEP project director. "It's the first stage of our journey to understand the challenges of Philadelphians who face economic instability and to learn from them about what works to achieve stability. We don't want to guess about what works, we want to hear directly from Philadelphians."
Building on the foundational work of the Poverty Tracker survey established in New York City by Columbia University and Robin Hood, the PEEP survey is meant to provide a dynamic view of economic hardship and instability over time. It aims to capture the effects that are visible in health, education, and job access, as well as effects that are exacerbated by structural racism.
The project's goal is to help policymakers, nonprofit leaders, and community residents support Philadelphians' economic well-being and development. Through this survey and other community conversations, the project's research team plans to develop studies that will bring nuance to the narrative about people who are experiencing hardship.
About SP2's Center for Public Service and Policy
The Center for Public Service and Policy is a dynamic R&D hub and do-tank embodying a steadfast commitment to drive equitable economic mobility through research, innovation, and partnership. Home to the Partnership for Social and Economic Mobility and the Philadelphia Economic Equity Project (PEEP), the Center stands as a conduit, generating and translating research into actionable solutions that can readily be scaled and replicated within local communities. The Center will also serve as a place for current and former local public executives to develop policy ideas and approaches to economic mobility with solution leaders and researchers. Merging academics and experiential learning, the Center will cultivate and inspire a pipeline of public servants with opportunities for undergraduate and graduate students.
About Penn's School of Social Policy & Practice (SP2)
For more than 110 years, the University of Pennsylvania School of Social Policy & Practice (SP2) has been a powerful force for good in the world, working towards social justice and social change through research and practice. SP2 contributes to the advancement of more effective, efficient, and humane human services through education, research, and civic engagement. The School offers five top-ranked, highly respected degree programs along with a range of certificate programs and dual degrees. SP2's transdisciplinary research centers and initiatives — many collaborations with Penn's other professional schools — yield innovative ideas and better ways to shape policy and service delivery. The passionate pursuit of social innovation, impact, and justice is at the heart of the School's knowledge-building activities.
People
Candice Dias, PhD

Project Director & Research Scientist, Philadelphia Economic Equity Project

Contact

Email