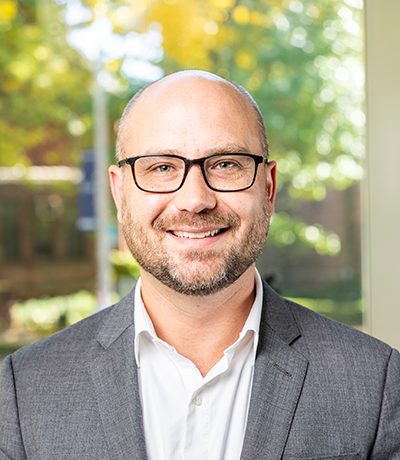 Micheal Shier, PhD'14
Alum, PhD in Social Welfare
Associate Professor at the University of Toronto
Dr. Micheal Shier is an associate professor at the Factor-Inwentash Faculty of Social Work, University of Toronto. He is the MSW Program director and the field of study coordinator for the Human Services Management and Leadership field of study. He is also the coordinator for the certificate program in Human Services Management and Leadership with the School of Continuing Studies, University of Toronto, and the faculty lead for the FIFSW Student Leadership and Mentorship co-curricular program. Dr. Shier joined the faculty in 2014 following completion of a PhD in Social Welfare at Penn's School of Social Policy & Practice. He has been the recipient of several research awards, including the Government of Ontario's Ministry of Research and Innovation Early Researcher Award (2017-2022) and is appointed as a Canada Research Chair holder in Social Innovation and Social Entrepreneurship in the Human Services.
Dr. Shier's program of research helps to optimize social service delivery and improve social outcomes for vulnerable social groups, enhances the capacity of nonprofit leadership within the community, and supports local social welfare and community economic development. Specifically, his research focuses on organizational development in human service organizations, with an aim to support outcomes and strategies that lead to 1) social innovation and social entrepreneurship (including development of leadership capacity, organizational culture, positive partnerships dynamics, and for-profit market-based activities), 2) equity and inclusion, 3) workplace health and safety, and 4) trauma informed organizational environments.
His current funded research is aimed at developing socially innovative organizational strategies within the nonprofit and voluntary sector to promote equitable and inclusive human service organizational environments, and understanding the mechanisms that promote social-purpose driven for-profit activities within and among non-profit and for-profit organizations across Canada. Dr. Shier also works extensively with nonprofit human service organizations to develop and implement models of evaluation that support the identification and implementation of social innovation efforts.
"I have been involved in social justice-related work since my early career in the human services sector. I chose Penn and SP2 because of the high-quality education and research training in social work and the ability to work with my PhD supervisor, Dr. Femida Handy. SP2 provided a great opportunity to learn and collaborate with faculty during my PhD studies. I appreciated the research-intensive focus of the PhD program, and the skills that I learned have been influential in the work I currently undertake. The expert knowledge and skills I gained while training at SP2 have really shaped the type of researcher and social work educator I have become."
About
Graduation Year
2014