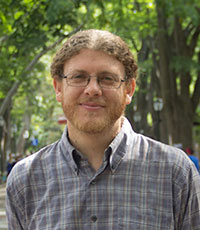 Jeffrey Sharlein, PhD, MSW
Graduate, PhD in Social Welfare
Lecturer, MSW Program
Research Interests
Juvenile lawbreaking & juvenile justice
Social welfare & place
Poverty & inequality
Mass incarceration
Neighborhoods/communities
Social welfare policy
Jeffrey Sharlein is a lecturer and doctoral candidate in the University of Pennsylvania's School of Social Policy and Practice. His research and teaching interests center on juvenile law-breaking, juvenile and criminal justice, poverty and inequality, neighborhoods/communities, and social welfare policy. He teaches in the MSW program's policy sequence.
Current independent and collaborative research projects include a qualitative study of youth from disadvantaged communities who have engaged in serious lawbreaking, a comparative examination of the impact of juvenile and adult court processing on youths' educational and employment outcomes, an application of a topological expansion of the neighborhood effects framework, and a methodological inquiry into measuring neighborhood disadvantage as a predictor of adolescent police contact. Jeffrey has been awarded SP2's Summer Research Fellowship as well as a grant from the Fahs-Beck Fund for Research and Experimentation in support of his research.
Prior to entering the PhD program, Jeffrey practiced social work with youth and families in community-based settings. In the classroom, he illustrates course material with examples from his practice background, as well as inviting students to draw on their own field experiences. Jeffrey received his Master of Social Work from CUNY Hunter College's School of Social Work (now the Silberman School of Social Work) and his Bachelor of Arts in English from Wesleyan University.
Contact
Email
About
Department(s)
Recent PhD Graduates
Related Links