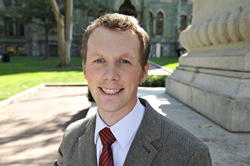 Daniel Curtis, PhD
Graduate, PhD in Social Welfare
PhD Student, Doctoral Program in Social Welfare, 2010-2011 cohort
Advisor: Dr. Ram Cnaan
Dissertation: Blessings and Burdens: How Immigrants to the United States Who Are Latter-day Saints Perceive the Benefits and Costs of Being Religious
University of Michigan-Ann Arbor – Master's in Social Work, 2010
Brigham Young University – Bachelor's in Social Work, 2009
Presentations
DSSC and GAPSA G12 Synergy Fund Conference, March 21 2013, Latter-day Saint Volunteerism, Paper
Latter-day Saint Student Association regional conference, March 30 2013, Latter-day Saint Volunteerism, Paper
Annual meeting for the Scientific Study of Religion, October 2012, Motivating Mormons: What motivates Mormons to volunteer and donate?, Paper
ARNOVA, November 2012, Motivating Mormons, Paper
Publications
Cnaan & Curtis, Religious Congregations as Voluntary Associations: An Overview., Nonprofit and Voluntary Sector Quarterly. 2013, 42(2)
Curtis & Cnaan, International Volunteering by Members of The Church of Jesus Christ of Latter-day Saints., International Journal of Religion and Society. 2012, 2(4)
Cnaan, R. Curtis, D.W. (2010). The Business of Helping the Poor. Nitte Management Review.
Contact
Email
About
Department(s)
Recent PhD Graduates