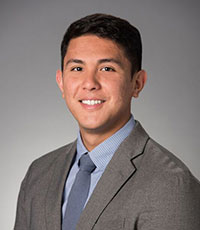 Rico Pasamba III, MS'20
Alum, NPL Program
Community Relations Specialist, Orlando Health
Rico Pasamba III currently serves as a Community Relations Specialist for Orlando Health, a not-for-profit healthcare organization with $6.8 billion of assets under management that serves the southeastern United States. In this role, Rico supports the Orlando Health Community Relations team with special project management, community activations & sponsorships, marketing strategy, finances, and on-site support for Orlando Regional Medical Center, Orlando Health Corporate, and Orlando Health's newest acquisitions.
Previously, Rico served as the Public Policy Director for the Central Florida Hotel & Lodging Association where he led efforts to advocate for Tourist Development Tax protections, an improved Visit Orlando contract with Orange County, and a comprehensive Human Trafficking Prevention bill in the State Legislature. He also served as a Public Policy & Foundation Coordinator for the Orlando Economic Partnership and as a Corporate Citizenship Coordinator for Walt Disney World.
Rico is a proud graduate of the Nonprofit Leadership program at the University of Pennsylvania's School of Social Policy & Practice and served as a Teaching Assistant to Professor Allison Russell, PhD during the Fall 2020 semester.
"The NPL Program has given me the knowledge to make informed and impactful decisions, the confidence to lead teams, and a group of lifelong friends and classmates who serve as an awesome support system. I've gained a solid foundation in the theory of nonprofit leadership and have had the opportunity to put those lessons into practice in class projects and in my role at a major nonprofit healthcare system. I am grateful to have had the privilege to learn from the many outstanding professors in the NPL program and will credit my future career success to the lessons I learned in this program."
About
Graduation Year
2020