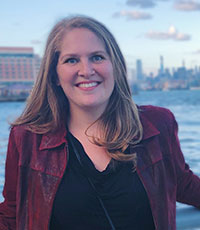 Kaley Gerstley, LCSW
Lecturer, MSW Program
Kaley Gerstley, LCSW received her MSW from Tulane University School of Social Work and is currently in the process of receiving her Doctorate of Social Work from the University of Pennsylvania School of Social Policy and Practice. She received her BA in cultural anthropology from Tulane University.
Kaley has extensive experience working in mental health both in an inpatient and outpatient setting.
She worked at an inpatient behavioral health unit at Bellevue Hospital in New York City for several years. She then transitioned to an outpatient mental health treatment as a psychotherapist in a community mental health agency. In these roles, Kaley performed duties related to crisis intervention, brief treatment, group and family therapy, individual therapy, and case management. Currently, Kaley is completing her research on the #MeToo movement and the ways in which it has impacted survivors of sexual violence.
Alongside working towards her Doctorate, she is a part time lecturer at SP2 where she teaches "Mental Health Diagnostics," as well as adjunct faculty at Montclair State University where she teaches "Helping and Engagement Skills."
Contact
Email
About
Department(s)
Faculty | Lecturers | Part-time Lecturers
Program(s)
MSW