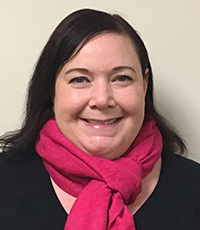 Christina Bach, MSW, MBE
Lecturer, MSW Program
Christina Bach, MSW, MBE, LCSW, OSW-C, received her Master in Social Work ('96) and Master in Bioethics degree ('12) from the University of Pennsylvania. She received post masters training in End of Life Care at the Smith College School for Social Work. She is a clinical oncology social worker, currently employed by OncoLink.org as the Psychosocial Content Editor. In this position, Christina curates psychosocial focused cancer education materials for patients, caregivers, and healthcare professionals. Previously, she worked in both inpatient and outpatient oncology social work settings at Penn Medicine and the Abramson Cancer Center at Penn Presbyterian. Christina also worked as the Veterinary Social Worker at The Ryan Veterinary Hospital/University of Pennsylvania School of Veterinary Medicine. Christina serves as the programming co-chair and social work facilitator of the Philadelphia Multiple Myeloma Networking Group. She lectures regularly on bioethics and social work, with a particular interest in the intersection of technology, medicine, and social work practice. She also volunteers regularly with her registered therapy dog, Linus, in both healthcare settings and in local libraries helping kids improve their reading skills.
Christina is the Associate Director of the Advanced Certificate in Oncology Social Work Program and teaches Medical Ethics for Social Workers in Diverse Settings as part of the MSW program. Christina also previously served as a field liaison for Advanced Clinical Practice.
In her free time, Christina enjoys traveling, knitting, cooking and spending time with her three rescued beagles.